Rewards for Reviews! - Winner Announced!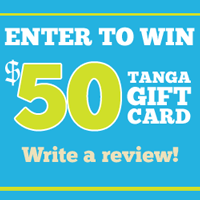 Write a review about your Tanga experience and you could win a $50 Tanga Gift Card, too!
A big thank you, gracias, hantalë, and congrats goes out to our first winner of Tanga's Weekly Rewards for Reviews Sweepstakes Stacy B. from Plainview, New York.
Stacybeep, your Tanga Gift Card has been issued!
Want to get a piece of this weekly action?
I can't blame you because who doesn't want a free $50 gift card just for leaving their opinion?!
Follow this link to the information page and to enter your review for your chance of winning a $50 Gift Card EVERY week!