It's Time. Time for a Game-A-Thon!
It's Time. Time for a Game-A-Thon!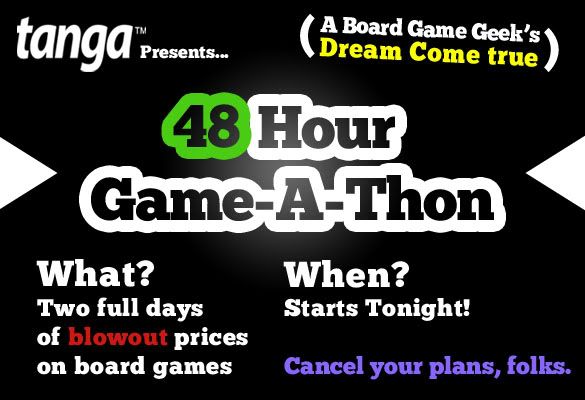 Looking around in the world today you can see that being a "nerd" is the new cool. But us real nerds know that wearing thick-rimmed glasses, suspenders, or braces are not what really makes us nerds. It's the love of the board game that separates the counterfeits and true-blood geeks.
For all the real nerds out there Tanga brings you something that you can only dream about. (caution – have inhaler handy) Behold: 48 hours of board games at blowout prices.
Pinch yourselves because you aren't dreaming. The real fun starts tonight at 7pm Pacific!
Here's How it Will Work
1) 48 Hours Only (Monday at 7pm Pacific to Wednesday at 7pm Pacific)
2) Insanely discounted prices on Board Games
3) Each sale will be found in the the Miscellaneous category on Tanga and will change every 2 hours
See you at 7 pm!
Enjoy this post?
Tweet