Presenting New Tanga Game: Words in the Weeds
Presenting New Tanga Game: Words in the Weeds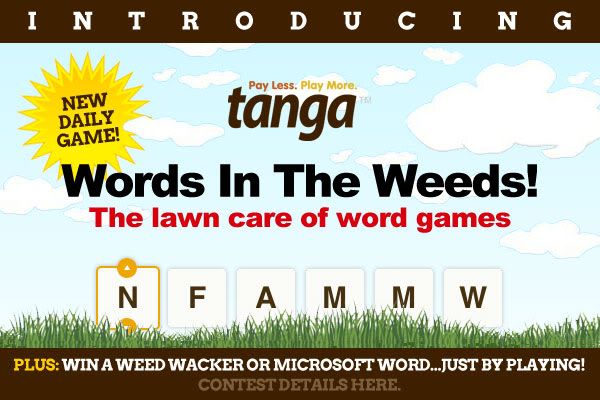 Words in the Weeds Giveaway!
For each Words in the Weeds puzzle you solve from January 25-February 8, you'll receive one entry to win one of these prizes!
HOW

TO

ENTER

Easy! Just play Words in the Weeds from January 25 – February 8! We'll keep track of each puzzle that you solve and on February 9, we'll randomly draw some winners.

The more you play, the more entries you'll get. The more entries you get…well, you see where this is going.
Words in the Weeds is in "Beta"
Ahh…the ever-popular "beta testing" period. Yes, that means that we're putting it out there and hoping you'll love it, and yes, there's a possibility that something might not work perfectly just yet.
Here's what beta means for Words in the Weeds:
- Users can't submit content just yet. But that's coming soon. Yes, we're saying that eventually you will be able to create Words in the Weeds!
- It won't show up on our main Daily Fun page just yet, but give it a week or so. For now, get your nightly fix right here. We'll post a link to the new puzzle in our comments below. It will be live at 7pm (Pacific) each day
- The game will not show up in the archives, yet.
- There might be bugs (Nooooooo!!!!). Let us know about any bugs you find (you can put them in the comments here if you want) and we might even name those bugs after you.
- Words in the Weeds is perfectly playable on your phones (well, it works on Renfurdson's iPhone, anyway). We'd love feedback from those of you who also use your phones to play on Tanga.
- For those of you for whom this is important must-know information: completing a game of Words in the Weeds will also reward you with 5 Tanga Points. We say "also" because the fun and excitement you will no doubt feel from successfully finishing a game is likely reward enough, yes? Also, there will be no first-100-solvers bonus points, but this will count toward Top 20/100 solves.
Uh…that's it (I hope). So go play and let us know what you think!
Enjoy this post?
Tweet