Why Did Tanga Give Away Two Disney Dream Prizes?
Why Did Tanga Give Away Two Disney Dream Prizes?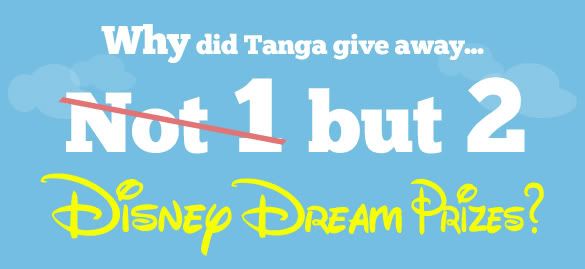 We have not one but
TWO

winners this month!

Por que? Well that's because when Nancy M. was drawn as the winner she entered through a referral link that her friend Kathleen B. had posted. So Nancy not only won herself a $250 Disney Gift Card but Kathleen also won her own $250 Disney Gift Card as well!
Wow! Two Winners??
Yes there are two winners this month. While that may be a little much for some to chew we want to reiterate the fact that you, too can win. When you enter to win the $250 Spa gift card just make sure and send the referral link to everyone you know and their mothers. So when John Smith's mother is drawn to win the spa gift card – you will win one too!
What the winners had to say:
We wrote to Kathleen to tell her the great news and she replied with the following note: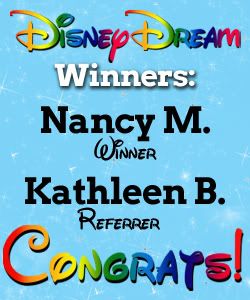 "I am so excited to hear that my internet friend, Nancy Mottu, won Tanga's Disney Dream Giveaway. And super excited to hear that I won by referring her! I will definitely continue to refer friends to Tanga!! My "Happy Tanga Dance" starts with a conga line through the neighborhood, followed by the jitterbug all the way to the gates of the Magic Kingdom where I plan to use my $250 giftcard for a day of FUN with my family and Mickey Mouse!!!!"
Thanks again & can't wait to receive my prize,
Kathleen
Following tradition, we also wrote to Nancy-Pants (we are close enough now to make nicknames) and she replied with this:
" I am doing the happy Tanga dance as I sit at my desk at work by tapping my feet, nodding my head and doing the best I can while still doing my best to answer phones. I will use my giftcard on my grandkids (maybe) unless "Disney Fever" overtakes me as it usually does. We go to Disneyland or Disneyworld about once a year. I am on team Disneyland, even though I adore Disneyworld too! Disneyland has a more intimate feel and much easier to get around. My favorite ride (at either park) is It's a Small World! I am not a crazy Disney collector yet – buit I have a super soft spot for Disney Christmas ornaments! And I love Tanga and wish to thank you from the bottom of my heart for this giftcard! "
Your new best friend,
Nancy
1+1=You both win the prize! (it's legit math – I called a professional)
Don't you want to be the next Kathleen and Nancy? Share that link! Facebook, Twitter, or even just plain ol' email works to get your link to everyone you know!
And here's another tip for you. If you want to try a fun experience on your next Disney Cruise, join a fish extender group. What is that, you ask? Passengers participate in a gift swap. This fun activity isn't sponsored by DCL so cruisers come together to do it. Full overview of Fish Extender and gift ideas here.
Enjoy this post?
Tweet