Tanga's 500,000th User and Winner of $500 Tanga Cash Announced!
Crack open the celebratory champagne and sound the triumphant bugles because Tanga has reached 500,000 users!
What does that mean to you and why should you possibly care? Aside from the obvious benefits of having 500,000 friends, if you were signed up in all the right places you were entered to win a whopping $500 Tanga Cash.
We know what you are thinking.. What could someone possibly do with $500 Tanga Cash with such great deals that barely cost you anything to begin with? Well rest assured that we will be around long enough for that $500 to be spent.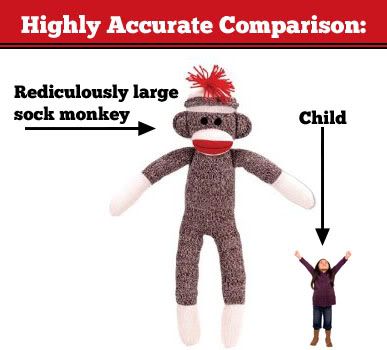 Now to the good stuff: Who won?
Clap your hands and jump with giddy excitement for our winner: Jonathan C. (otherwise known as merely911). Everyone here at the Tanga HQ is very excited not only to reach this great milestone but to also give this $500 Tanga Cash prize.
But
WAIT

! That's not all!

We have a special surprise for our 500,000th Tanga User Mikewhit1985 who is the winner of a giant sock monkey! Not only is the sock monkey larger than an average child (see "Highly Accurate Comparison" to the right), but it will forever stand as a constant reminder joining the Tanga family at just the right time! Go ahead, pat yourself on the back.
Thanks to all of our users!
Even though you aren't bringing home the $500 bucks or a ridiculously large sock monkey, remember that we appreciate all 500,000+ users that have brought us this far. Now… time to start planning what we'll do when we hit a million users!